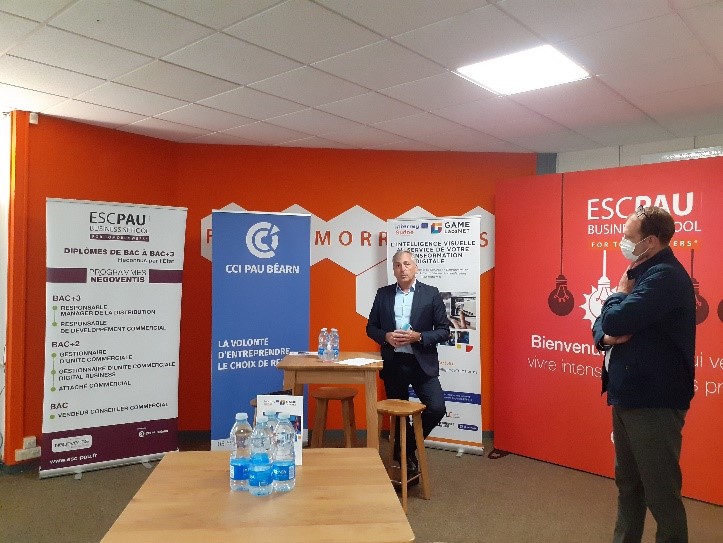 05 Oct

The future is getting ready with the "connected store"

The Chamber of Commerce and Industry of Pau Béarn, with its Labstore, wants to stimulate a dynamic of digital innovation among local merchants…

The digital tools of the future are currently grouped in the "connected store", located on the premises of the ESC Pau Business School, rue Saint-John Perse in Pau.

To be discovered: an interconnected showcase, a digital assistant to find products on the shelves, a video mapping system to change the design of objects and present the entire range, music concentrated in a defined space, a pico-projector that recognizes products, a holographic propeller that emits photos and videos, connected labels that consume almost no energy…

The ESC Pau Business School is a laboratory that allows retailers and restaurateurs in the Béarn region to present and test digital solutions that enhance the attractiveness of their point of sale.

Run by the CCI Pau Béarn (which has invested €300,000), this project was created within the framework of the European program GAMELabsNET, led by France, Spain and Portugal. Its aim is to facilitate the digital transformation of companies in the aeronautical, health, commercial and tourism sectors.

"We created this space on the premises of the Pau Business School, because we want it to be a "school store": a source of inspiration for students, retailers and anyone else who might be interested in the solutions we offer," explains Didier Laporte, President of CCI Pau Béarn.

And Serge Gallazzini, Vice-President of CCI Pau Béarn, adds: "The idea is that each retailer can appropriate the techniques presented in the Labstore, depending on their activity, but also on their needs.

Taking digital to places where it's not expected…

Light effects that highlight products, a projector that changes the design of an object to show the consumer the entire range, a connected and interconnected showcase that can display photos, videos or games, special loudspeakers that reduce noise pollution in the store by playing music only in a defined area.

All these new technologies are displayed in a space comprising three distinct shopping areas: a delicatessen, a parapharmacy and the textile sector. Discreet and playful, they are easily integrated into the existing furnishings and allow consumers to enjoy a unique experience, both visually and aurally.

"With this technology, we bring digital to places where people don't expect it. The goal is to encourage people to push open store doors and bring a playful dimension to these spaces…. The possibilities are endless, because these solutions can be adapted to your needs," says Yannick Silva, creator and director of the engineering and innovation company Nconcepts, which specializes in digital and interactive technologies for events (based in Héliopark).

Thanks to this new experimentation space, Didier Laporte makes no secret of his desire to encourage the growth of retailers and restaurateurs in Béarn's town and village centers in the field of digital technology, in direct competition with online retail giant Amazon, which plans to set up a platform in the Morlaàs-Berlanne business park, northeast of Pau.

"Over the past two years, there has been an increase of more than 16% in credit card purchases, which implies an evolution of connected shopping. Retailers must not miss these opportunities," he insists.

To learn more about ICC Pau Béarn's strategy, visit its website. More information is available on the Nconcepts company website.