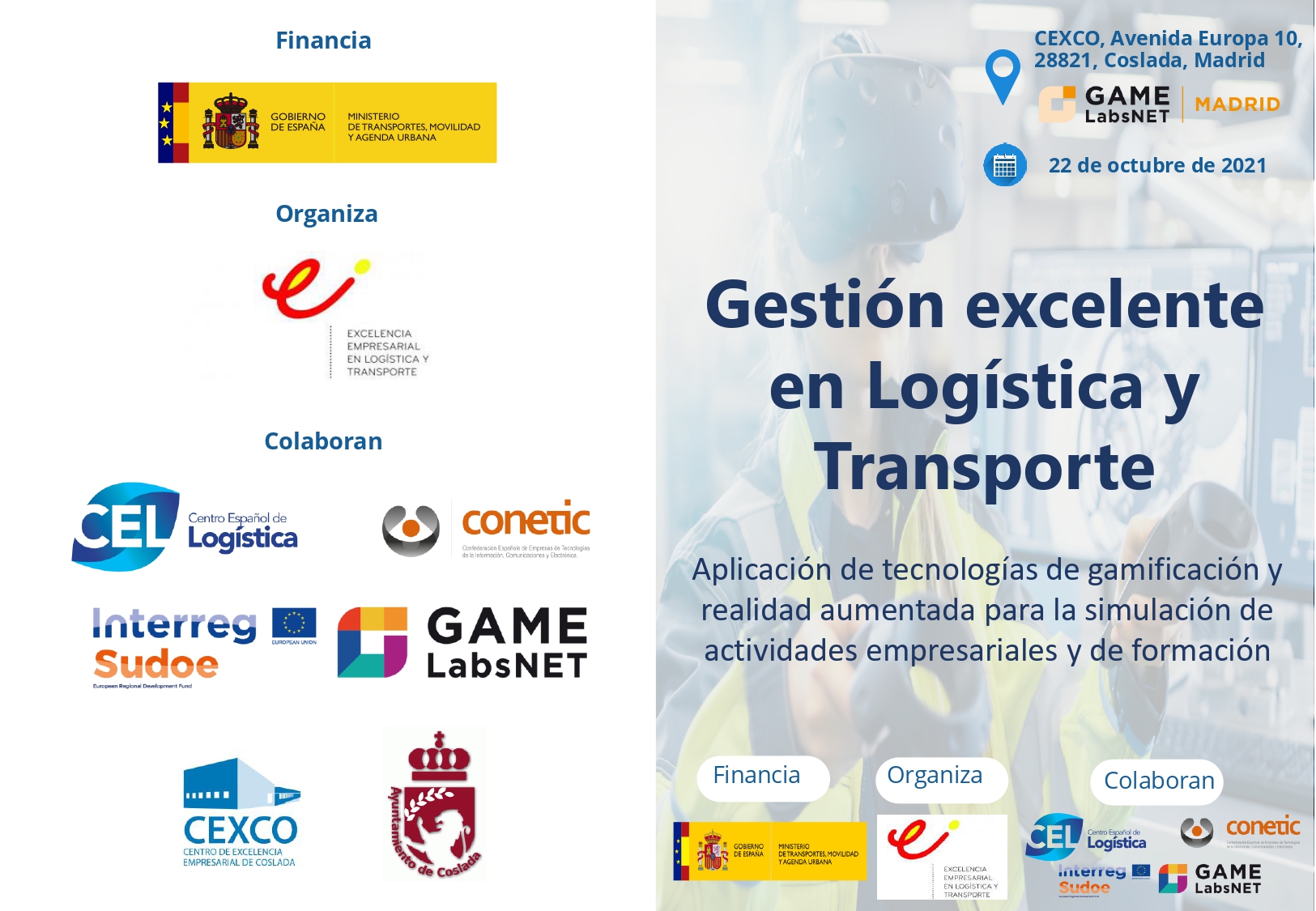 20 Oct

10/22/21 (MADRID) Excellent management in Logistics and Transportation

GAMELabsNet is one of the organizers of the conference "Excellent Management in Logistics and Transport: Application of gamification and augmented reality technologies for the simulation of business and training activities", to be held this Friday, October 22.

The event will be held at CEXCO (Av. Europa, 10, 28821, Coslada, Madrid). Registration is free and can be done through this link.

The day will begin at 09:00 with the delivery of accreditations. At 09:30 there will be the institutional opening by Jose Estrada, General Director of the Spanish Logistics Center; Ms. Ana Isabel Cremades Rodríguez, General Director of Research and Innovation of the Community of Madrid; Jorge Arnau Llinares Sanjuan, from the General Subdirectorate of Industry Digitalization and Collaborative Environments – General Directorate of Industry and Small and Medium Enterprises (DGIPYME) and Gloria Díaz, General Director of Conetic.

At 10:00, Gloria Díaz will present the objectives of GAMELabsNET, the transnational network of demonstration centers (labs) of video game and gamification technologies, with the collaboration of Ramón García García, director of Innovation and Projects of the Spanish Logistics Center.

At 10:15 a.m. there will be a simulation of business activities through these demonstration experiences:

– VIROO XR Innovation Tool – Create, Manage and Deploy VR Content in Multiuser and Multilocation environments in a simple way for the simulation of logistics and industrial processes", Virtualware.
– From 2D to Virtual Reality for building and facility simulation. Team Motion by Iscar Software.
– Generation of 3D models from photos and videos: eyesCloud3D platform, Ecapture3D.

After a coffee break, at 12:15 these applications for training activities and skills development will be shown:

– Gamified digital solutions for talent diagnosis and development, HR Tech by Gestionet.

– Training process for Picking and Packing in a warehouse", EdataConsulting

– Learning processes through visual representation, Wetak

The City Council of Coslada will be in charge of closing the event, at 13:45. In order to guarantee security and distance measures, the capacity of the room will be limited.

You can obtain more information on the Spanish Logistics Center website, by calling 91 781 14 70 or writing to this email: formacion@cel-logistica.org.