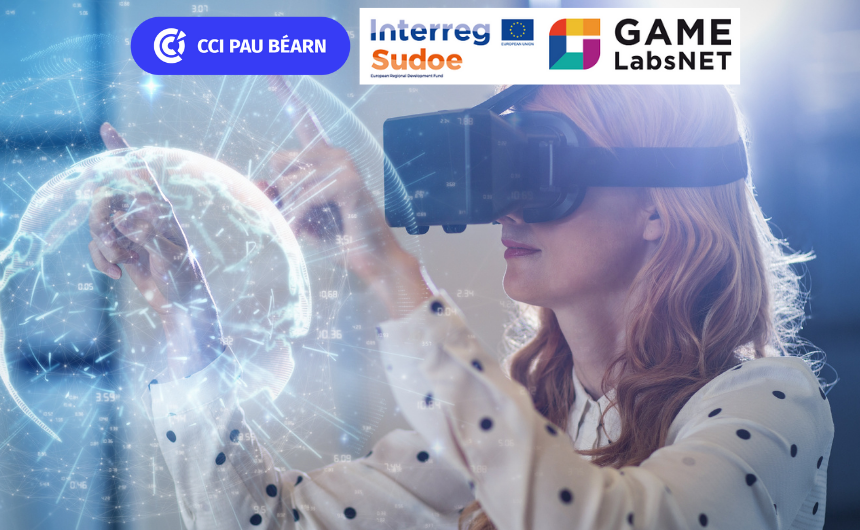 11 Apr

11/05/2022 | CCI Pau Béarn | Gamelabs'net transnational workshop

This day will bring together the partners of the European project GAMELabsNET around the technologies of Portugal, Spain and France.
The partners of the programme:
CEL / CCI Pau Béarn / Champollion / CONETIC / ESTIA / GAIA / IP Leiria
They will speak about innovation:
They will hold demonstrations:
Algo'Tech | Bidart, France | Platform of web and mobile applications without code to answer your digital challenges!
Appolo | Artix, France | Improving the decision chain and optimising processes with virtual reality.
Arcade VR | Pau, France | Virtual reality room with high-end equipment + tailor-made event services for companies.
AvatariFy |Leiria, Portugal | The evolution of e-commerce in the metaverse: creation of a virtual shop for the fashion industry.
Berger-Levrault | Limonest, France | Management solutions and performance monitoring tools for citizens, elected officials, health providers, schools, etc.
CreativiTIC | Bilbao, Spain | SME specialised in empowering human development through interactive technologies such as augmented, mixed and virtual reality combined with Deep Learning and artificial intelligence.
Ecrã Cúbico | Portalegre, Portugal | Consultancy and development in the areas of new technologies and communication.
ENVIE | Pau, France | High end 3D virtual tour.
Flash Play | France | Start up specialised in animation through different digital communication tools.
Fotokabine | Pau, France | Marketing tool that uses the experience of photography to collect data.
Game in society | Bidart, France | Design and production agency for fun, beautiful and educational experiences.
Hivolve | Porto, Portugal | AR/VR solutions to boost business.
MagicalStage | Leiria, Portugal | 3D Configurator.
N Concept | Pau, France | Engineering and innovation company specialised in digital and interactive technologies for events.
NERLEI – Business Association of Leiria Region | Leiria, Portugal |Provision of services that positively contribute to business results.
Practeex | Bordeaux, France | Company specialised in the production of virtual laboratory experiences.
Retail VR | Nantes, France | We offer brands and retailers new shopping experiences with unlimited possibilities. Virtual e-commerce solutions, shop staging, in-store activation, virtual showroom.
AKKA |Blagnac, France|Specialist in the design and development of digital training solutions in various formats: e-learning, Virtual Reality, Augmented Reality…
A NEW STORY | Albi, France|We offer different virtual tour technologies for companies.
INNOVAE GROUP|Borja Etxegoena, Leaders developing solutions based on augmented reality and virtual reality for Industry 4.0
 ISCAR SOFTWARE| Juan Ibarguren. Development, production and marketing of architectural, 3D and 2D design software
NUMIX |Marssac sur Tarn, France|We build innovative training solutions in virtual reality and augmented reality for industry.
Virtualware|Basauri. Spain| Industry, Education, Health, Energy. SaaS VR platform to create, manage and deploy content.
PROGRAMME
9h30 – Plenary session
Welcome: Didier La
porte, Président CCI Pau Béarn
Presentation of Gamelab'snet: Gloria Diaz, CONETIC
Digital transformation and industry: Nueva Región de Aquitania
Digital transformation and innovation: French Tech
Digital transformation and tourism: Pau Tourism Office
Demonstration of a VR solution: special guest
Presentation of th
Training and digital twins
e Gamelab'snet laboratories: LAB CCI, LAB Champollion, LAB ESTIA, LAB CEL, LAB CONETIC, LAB GAIA, LAB IP Leiria
11h30 –Workshops, demonstrations and networking
VA/VR solutions
Interactive solutions
14h30 – Visit of the connected shop of the CCI Pau Béarn
16h00 – End of the day
Information and contacts:
Charlotte Bernadet | +33 6 73 70 52 37 | c-bernadet@pau.cci.fr
Céline Le Droumaguet | +33 6 30 85 69 51 | c-ledroumaguet@pau.cci.fr